Despite being down to the last full weekend of conference play (two remain for the Big Ten and one for the NCHC), the outlook hasn't changed much since last week's article.
You may want to follow along with the data, this narrative is all based on the forecast of PWR by wins, which shows the number of wins necessary to be likely to end the regular season at a particular PWR ranking.
Keep in mind that conference tournaments could result in additional movements, though by then we generally know that teams in the mid-teens need to win to get an at-large bid.
Near locks
With a lossless weekend, the top three teams solidified their positions. It's now probably pretty safe to add #3 Harvard to the list of near locks. Even with two losses this weekend, the Crimson are unlikely to fall below the the 3-6 range, so would still likely get an at-large bid even in the worst case 0-2 conference tournament scenario. Note that's not yet a mathematical certainty, just quite likely.
#1 Denver
#2 Minnesota-Duluth
#3 Harvard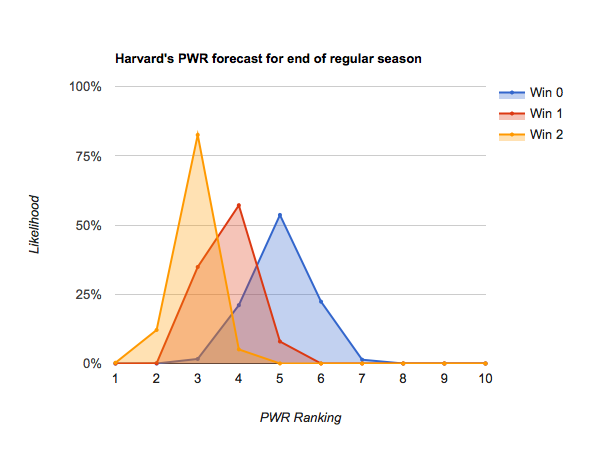 Likely in unless they collapse
Note that despite a sweep last weekend, I'm still nowhere near ready to call it for #4 Minnesota. The Gophers have six regular season games remaining and could easily plummet to the bubble if they lose them all. That's probably not likely, but certainly possible.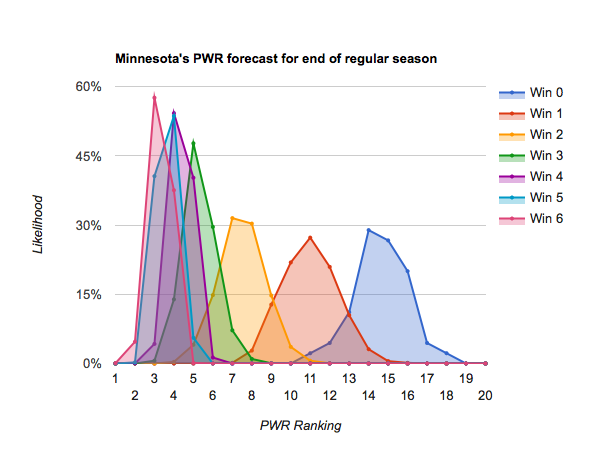 Down to about #8 Mass-Lowell will be well positioned with just a single additional win. Note that many of those teams only have two regular season games remaining, so going winless is quite possible.
Note also that I dropped #9 Providence from this list after a loss and tie last weekend were the potential first step in the very type of collapse that could land the Friars on the bubble.
#4 Minnesota
#5 Western Michigan
#6 Boston University
#7 Union
#8 Mass.-Lowell
Control their own fate
#9 Providence is still in control of its own destiny. Two wins this weekend would likely put them in the 8-12 range, and in control of their own fate.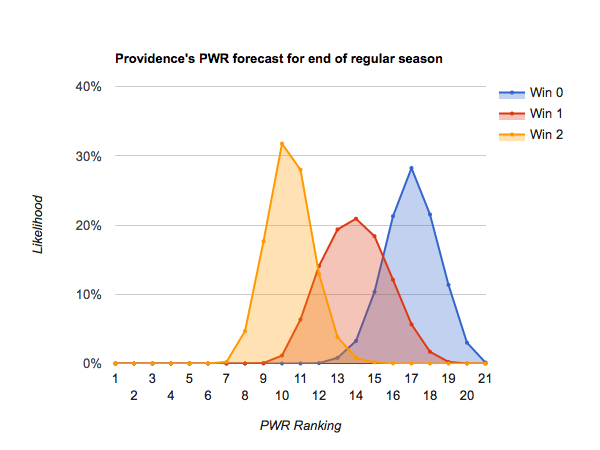 That holds true down to about #20 Wisconsin, which can still move into a top 10 spot with 5-6 wins in its final 6 games.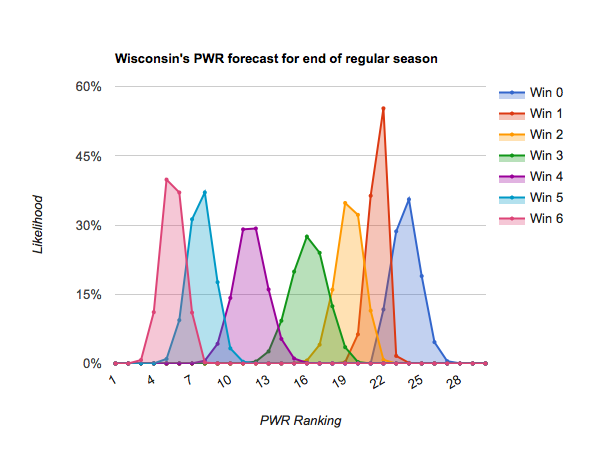 Note, however, that #17 Vermont is in a precarious position. While two wins is most likely to push the Catamounts up to around #14, there's a reasonable chance of staying as low as #17.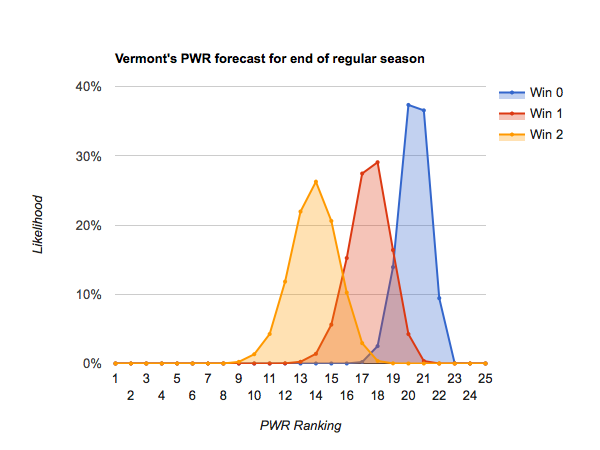 #9 Providence
#10 Cornell
#11 Penn State
#12 St Cloud St
#13 Ohio State
#14 North Dakota
#15 Air Force
#16 Notre Dame
#17 Vermont
#18 Boston College
#19 Nebraska-Omaha
#20 Wisconsin
Need to do well in conference tournaments
Some of #21 Northeastern and below stand a chance of climbing to the bubble by the end of the regular season, but that alone won't be enough to make the NCAA tournament. Some additional wins in the conference tournament or extremely good luck will be required to make the NCAAs at-large.
#28 Miami's chances faded significantly with a pair of losses last weekend, but having two more games remaining than other teams in the 20s gives them one of the best chances at climbing back.
#21 Northeastern
#22 St. Lawrence
#23 Quinnipiac
#24 Bemidji St
#25 Clarkson
#26 Canisius
#27 MSU-Mankato
#28 Miami
#29 Merrimack
#30 Robert Morris
#31 Michigan Tech
#32 Army
#33 Yale
#34 Princeton
#35 Connecticut
#36 Colorado College
#37 New Hampshire
#38 Dartmouth
#39 Bentley
#40 Holy Cross
#41 Bowling Green
#42 Michigan
#43 Maine
#44 Arizona St
#45 Sacred Heart
#46 Mercyhurst
#47 Colgate
#48 Lake Superior St
#49 RIT
#50 Michigan St
#51 Ferris St
#52 Northern Michigan
#53 Alaska
#54 Alaska-Anchorage
#55 American Int'l
#56 Alabama-Huntsville
#57 Rensselaer
#58 Massachusetts
#59 Brown
#60 Niagara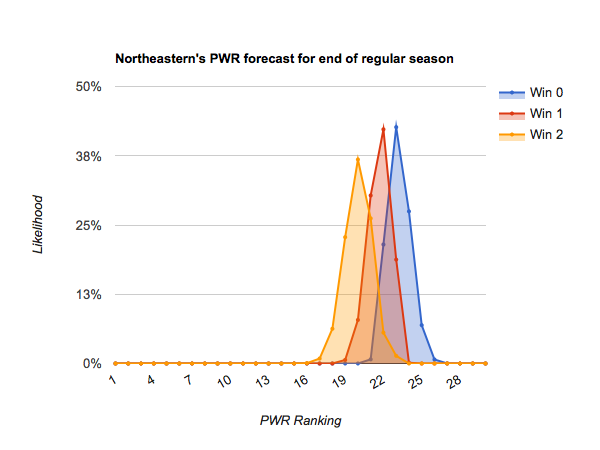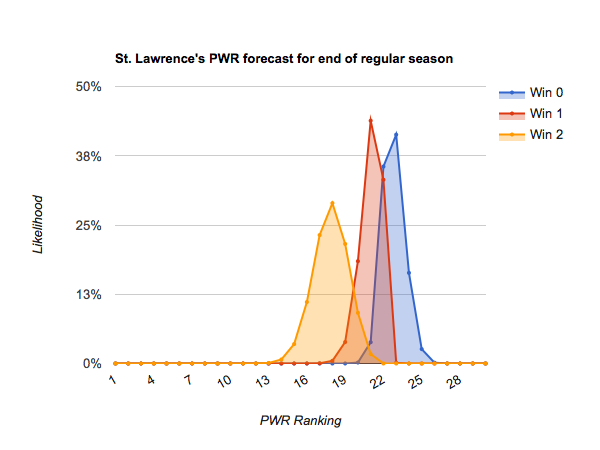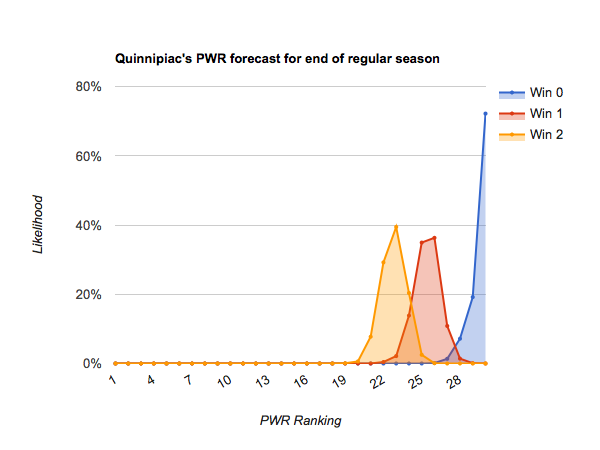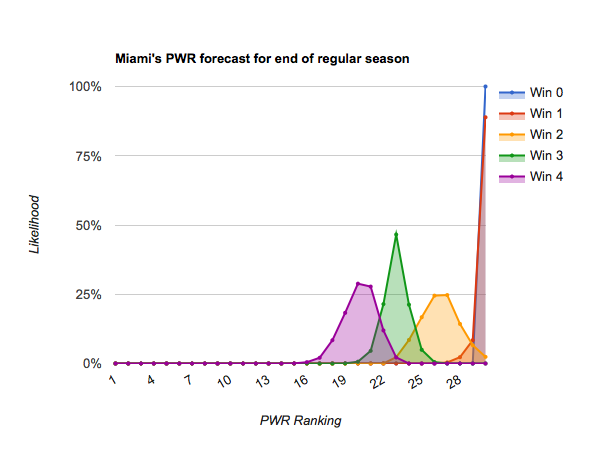 Methodology
Forecasts include the results of games played through Thursday of this week.
Each forecast is based on at least one million monte carlo simulations of the games in the described period. For each simulation, the PairWise Ranking (PWR) is calculated and the results tallied. The probabilities presented in the forecasts are the share of simulations in which a particular outcome occurred.
The outcome of each game in each simulation is determined by random draw, with the probability of victory for each team set by their relative KRACH ratings. So, if the simulation set included a contest between team A with KRACH 300 and team B with KRACH 100, team A will win the game in very close to 75% of the simulations. I don't simulate ties or home ice advantage.
Resources