The number question I still get every week is, "Will Arizona St make the NCAA tournament?" The answer to that question is still, "very likely", but it's not quite "definitely".
Because Arizona St is done with regular season play, any movement in its PWR will be because of the movement of other teams. To understand what might happen, the place to start is with the teams around #10 Arizona St, because those are the teams that will either climb above or fall below the Sun Devils and change their ranking.
Arizona State's PWR Rankings Details
PWR comparisons are usually won on the basis of RPI. Looking at the teams around Arizona St, there is significant potential for movement:
| | |
| --- | --- |
| #5 Quinnipiac | .5715 |
| #6 Ohio St | .5594 |
| #7 Denver | .5572 |
| #8 Northeastern | .5517 |
| #9 Providence | .5508 |
| #10 Arizona St | .5494 |
| #11 Clarkson | .5492 |
| #12 Cornell | .5473 |
| #13 Western Michigan | .5445 |
| #14 Harvard | .5434 |
| #15 Notre Dame | .5388 |
Note the big gaps between #5 Quinnipiac and #6 Ohio St, and between #14 Harvard and #15 Notre Dame. The range #10 Arizona State is likely to operate in is between #6 Ohio St and #14 Harvard. But remember that there's a little bit more to PWR than RPI; if you look at ASU's PWR details (linked above), you'll see that the comparison with #6 Ohio St wouldn't be flipped by Arizona St surpassing them in RPI, so Arizona St's real likely range is #7-#14.
To understand what's going to make ASU moves around within that range, it helps to start by looking at what is likely to happen this week.
Arizona State's one-week PWR outlook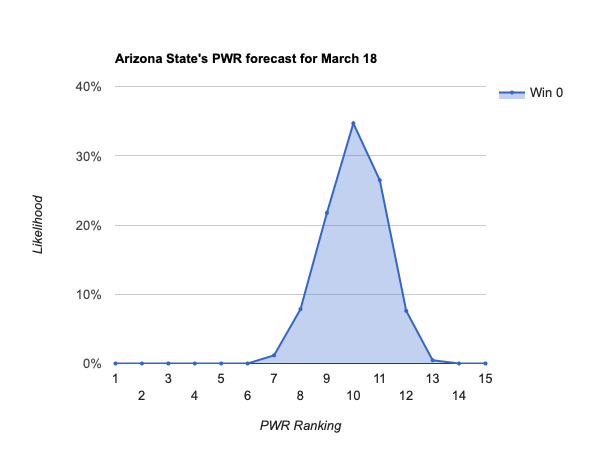 Unlike last week, when I noted that ASU had a lot more downside potential than upside (and indeed they fell 2 spots), their outlook this week is a pretty balanced bell curve around their current #10 ranking.
| | |
| --- | --- |
| #7 | 1% |
| #8 | 8% |
| #9 | 22% |
| #10 | 35% |
| #11 | 27% |
| #12 | 8% |
| #13 | 1% |
(Note that those predictions rely on KRACH weighting for likelihood of game outcomes, so that is not a share of possible outcomes or an assumption that each outcome is equally likely).
Where Arizona St will land after this weekend comes down to the performance of the teams listed above. If teams around Arizona St falter, the Sun Devils will climb. If teams around Arizona St succeed, ASU will fall. Arizona St fans should cheer for the following:

Boston College to defeat #9 Providence
Maine to defeat #8 Northeastern
UND to defeat #7 Denver
Yale to defeat #11 Clarkson
Union to defeat #12 Cornell
In the world of 1% outcomes, the simulations say that Dartmouth beating #14 Harvard is more important than #13 Western Michigan's games, but I'm not sure why.
The more of those that occur, the better for Arizona St; the fewer, the worse.
Of course, more games will played after this weekend but before NCAA tournament selection. Because we're in conference tournament play now, the games above have an additional impact on Arizona St's fortunes beyond their immediate impact on PWR. Winning teams will get more games, whereas losing teams will not. That's why I'm comfortable saying Arizona St is likely to make the NCAA tournament—if the teams around ASU lose this weekend, not only will Arizona St have a better PWR, but their potential to fall will diminish significantly because those teams who could most harm ASU's PWR won't have any more games; further, even if the teams around ASU do win this weekend, pushing the Sun Devils into a worse PWR, those teams will play again with some chance of losing and falling back below Arizona St.