This weekend most teams are playing best of 3 conference tournament play-in series, with the exception of two Big Ten semifinal games. The range of likely outcomes isn't particularly broader than usual, because the best a team can do is still two wins and the worst two losses. But, this weekend's interesting twist is that the worst outcome would also result in no additional games until NCAA tournament selection, so some teams will start to lose control of their own PWR destiny this weekend.
Follow along with the one-week forecast:
Wins needed to likely have PWR rank on March 18, 2019
#1 St Cloud is probably going to be #1 a week from now, no matter what happens this weekend. The Huskies' RPI of .6175 is simply unassailable, with #2 Massachusetts at a distant .5827.
The top 6—#1 St Cloud, #2 Mass, #3 Minn St, #4 Minn Duluth, #5 Quinnipiac, and #6 Ohio St—should all still be top 10 after this weekend. Their worst case scenarios for the weekend would also mean the end of their conference tournament play, so a top 10 finish this weekend would make it very likely that they would still be positioned to receive at-large bids to the NCAA tournament by the time conference tournaments are over.
It might appear that Ohio State really belongs in the group below this one, with its RPI of .5595 being much closer to #7 Denver's .5572 than #5 Quinnipiac's .5714. But, because Ohio State can lose at most one more game, it's difficult for them to drop much below #10 at the worst (i.e. under a 1% chance). Even then, everything below them would have to go just wrong for the Buckeyes to miss out on an NCAA bid from there.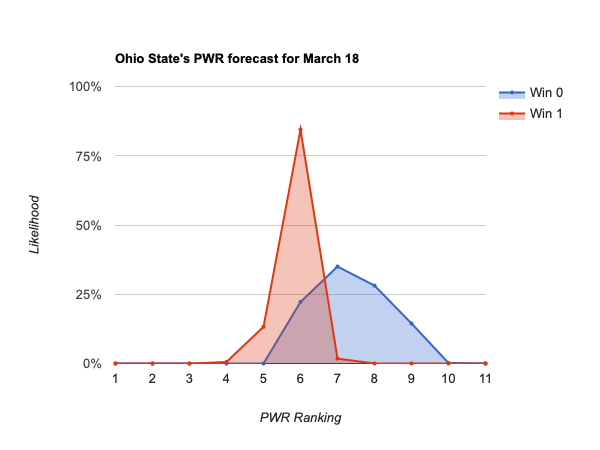 From #7 Denver down to #12 Cornell could end the weekend on the bubble, with a chance of making the NCAA tournament at-large, even with losses this weekend.
Those teams include:
#7 Denver
#8 Northeastern
#9 Providence
#10 Arizona St
#11 Clarkson
#12 Cornell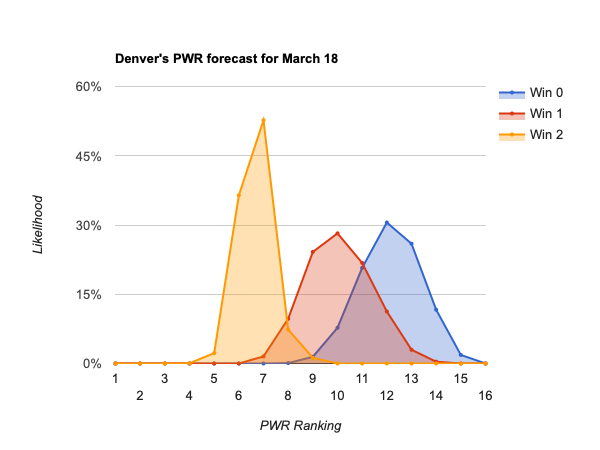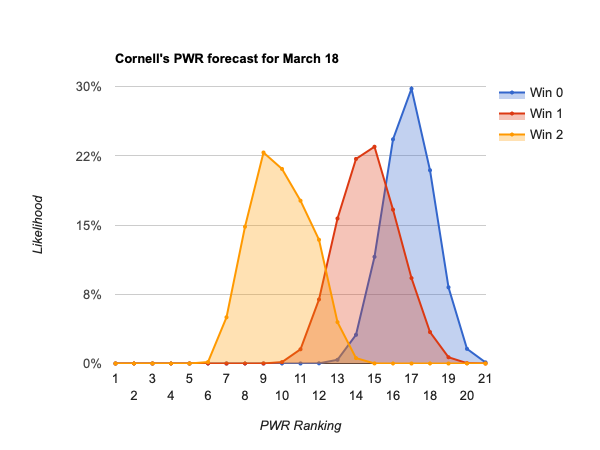 From #13 Western Michigan down to #22 Lake Superior St can keep their hopes of an at-large bid alive by winning this weekend, but will probably move out of position for an NCAA bid if eliminated.
Those teams include:
#13 Western Michigan
#14 Harvard
#15 Notre Dame
#16 Bowling Green
#17 Union
#18 North Dakota
#19 Penn State
#20 Mass.-Lowell
#21 Minnesota
#22 Lake Superior St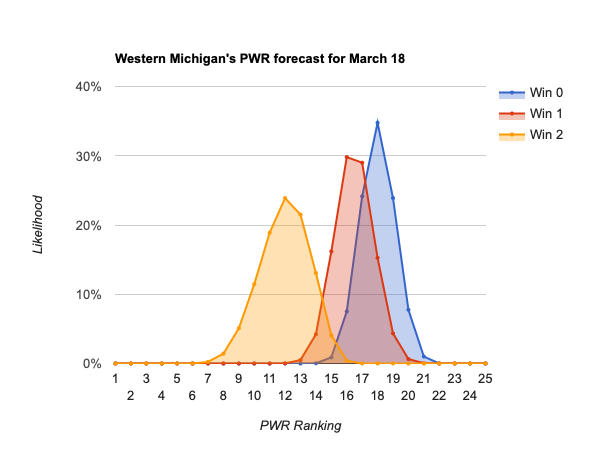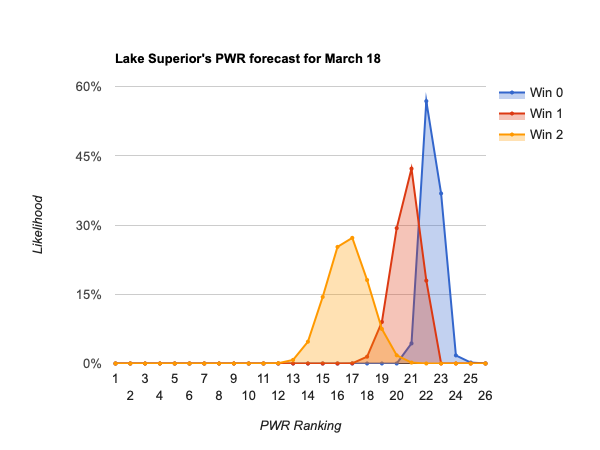 #23 Northern Michigan and below stand little chance of making the NCAA tournament at-large, so their only likely paths to the NCAAs are through a conference tournament championship and automatic bid.