Will there be a new #1?
#1 St Cloud State is almost, but not quite, guaranteed to hold onto #1 with a sweep (the Huskies stay #1 in about 98% of scenarios in which they sweep), but with a single loss would become vulnerable to #2 Notre Dame overtaking them if the Irish can pull off a sweep. Neither has an easy matchup, with St Cloud State facing #12 Western Michigan and Notre Dame facing #15 Michigan.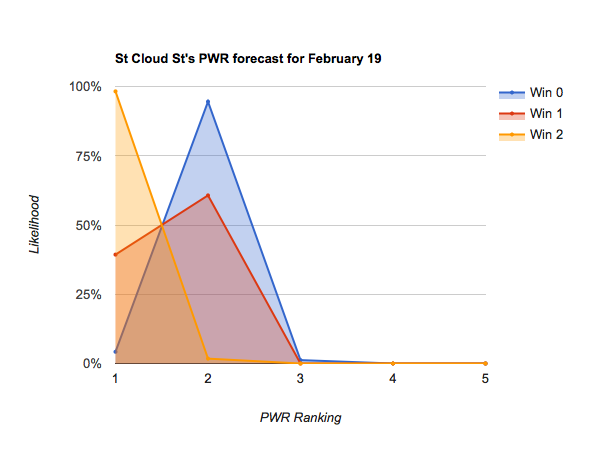 Who's vying for a 1-seed position?
In addition to St Cloud St and Notre Dame, the rest of the top 6 are also likely to be vying for top 4 slots this weekend.
#3 Cornell is unlikely to climb, but is hoping not to fall as low as #7.
#4 Denver could climb to #2 with stumbles by those ahead of them, but could also fall as low as #7 with a poor performance.
#5 Mankato could climb to #3, but could fall as low as #8.
#6 Ohio State could climb as high as #3, or slip a little to #7.
Biggest upside potential of the weekend
#24 Colorado College is the big upside team of the week. If the Tigers sweep and all goes well, they could climb as high as #12 and firmly onto the bubble. The #14-16 range is more likely with a sweep, but even that would represent a tremendous one week climb.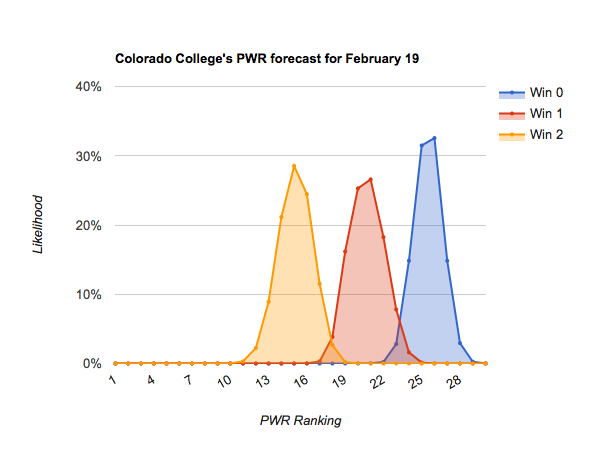 Biggest downside potential of the weekend
As often seems to be the case this time of year, around the #10-12 range can be precarious. These teams face a lot of downside potential if swept, and usually not much upside potential with a sweep. They generally need to win just to hang on, or rely on significant losses above them to climb.
#8 Providence could fall as low as #16 if swept, though #13-14 is a bit more likely.
#10 Nebraksa-Omaha could fall as low as #18 if swept, though #14-15 is more likely.
#11 Minnesota-Duluth could fall as low as #19 if swept, though #16-17 are a bit more likely.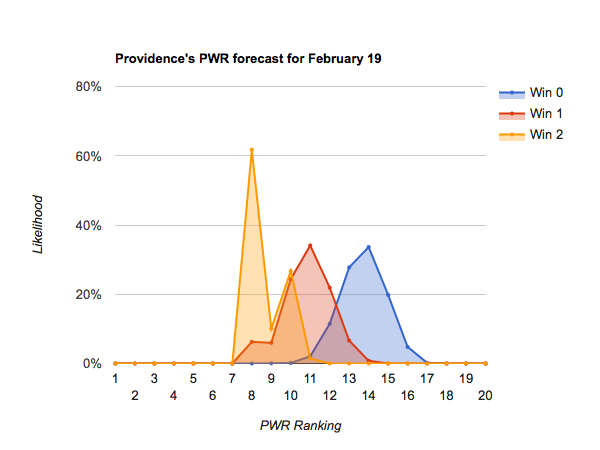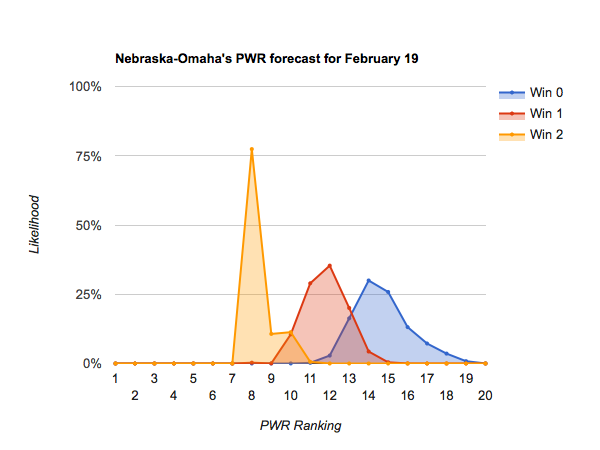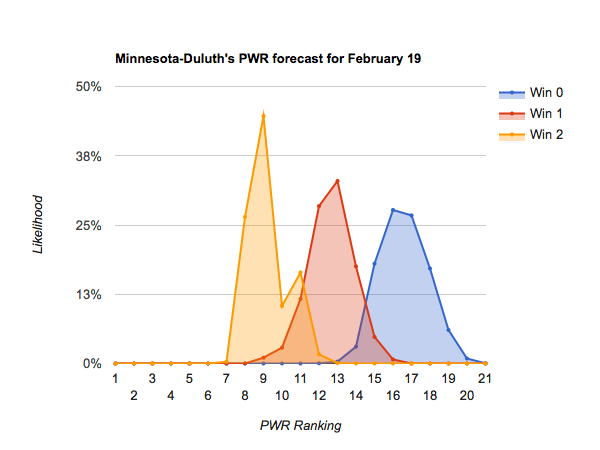 Biggest range of outcomes for the weekend
This usually comes from the 30s, where win-loss records and RPI are both in the .500 range and there's lots of potential to climb or fall out of the pack.
This week's biggest potential mover is #30 Yale. The Bulldogs could climb as high as about #21 with two wins or fall as low as #39 with two losses, a range of 18 positions of likely outcomes!
How it works
Each forecast is based on at least one million monte carlo simulations of the games in the described period. For each simulation, the PairWise Ranking (PWR) is calculated and the results tallied. The probabilities presented in the forecasts are the share of simulations in which a particular outcome occurred.
The outcome of each game in each simulation is determined by random draw, with the probability of victory for each team set by their relative KRACH ratings. So, if the simulation set included a contest between team A with KRACH 300 and team B with KRACH 100, team A will win the game in very close to 75% of the simulations. I don't simulate ties or home ice advantage.
Resources